Welcome to SWEETWATER VEX Robotics Family!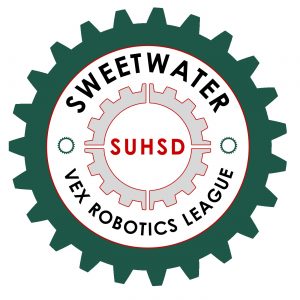 Over 6,000 students have been part of Sweetwater Union High School District (SUHSD) robotics since 2006.
What makes our District VEX Program different is its magnitude, outreach, continued growth, and sustainability. In the 2008-2009 school year, Hilltop High School started the first VEX robotics team in the district. In the 2010-2011 school year, Otay Ranch High School hosted its first VEX robotics tournament and in 2012-13 and based on the growth of VEX robotics teams across our district, Sweetwater VEX Robotics League was born. High school and middle school students have joined and participated in our district league for 6 years. Last school year (2017-18), we separated high school teams from middle school teams. It was the inaugural year for the Sweetwater Middle Schools VEX Robotics League with the participation of every SUHSD middle school.
2021-2022 Robotics- World Champions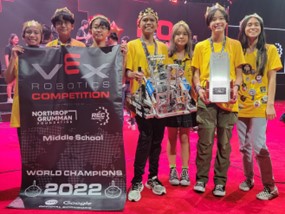 On May, 9, around 5:15pm PST, in Dallas, Texas, Rancho Del Rey Team 6446C, "The Royal Robots", under coach Mr. Kirk Braito, after two days of competing along with over eight hundred teams from all over the world, first won their division, and then went on to beat the champions of nine other divisions to win the VEX Robotics VRC 2022 Middle School World's Championship.  That is the highest award that can be given to middle school students in the world, and our students did it.  "This is the robotics equivalent to winning the Little League World Series. Our kids are better than 20,000 VEX teams worldwide." Ms. Jones -Teacher
The Game Moment: VIDEO;  The Media Coverage: VIDEO;  More Moments: VIDEO
What happens at SUHSD VEX Robotics Events? Watch videos & pictures HERE.
Don't miss the opportunity to explore future careers in STEM! Join a robotics team!
Sweetwater Middle Schools VEX Robotics League
Sweetwater High Schools VEX Robotics League
2021-22 Sweetwater VEX Robotics League Events (High Schools & Middle Schools):
Robotics League Event #1  on September 11, 2021 @ Otay Ranch High School
Robotics League Event #2 on October 9, 2021 @ Hilltop High School
Robotics League Event #3 on November 13, 2021 @ Bonita Vista High School
Robotics League Event #4 on December 4, 2021 @ San Ysidro High School
High School League Championships on January 15, 2022 @ Montgomery High School
Middle School League Championships on January 17, 2022 @ Montgomery High School
2021-22 Sweetwater VEX Robotics Tournaments:
12th Annual Otay Rach High VEX Regional VEX Robotics Tournament (high & middle schools) on November 6, 2021 @ Otay Ranch High School
South San Diego VEX Robotics Tournament (high & middle schools) on November 18, 2021 @ San Ysidro High School
8th Annual Montgomery AzTechs Tournament on January 29, 2022 @ Montgomery High School
4th Annual Middle Schools ONLY Tournament on February 5, 2022 @ Montgomery High School
For Up-2-Date Events information click HERE
Joseph Amaro 
District VEX Robotics League Coordinator
Joseph.Amaro@sweetwaterschools.org
Brahim Wahib
SUHSD STEAM Programs Coordinator
Brahim.Wahib@sweetwaterschools.org