6th Annual "Game of Throws" – Pumpkin Smash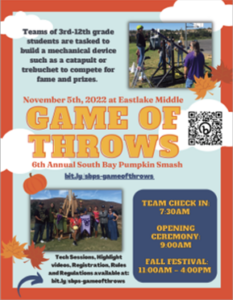 Our 6th annual community STEAM event hosted by Friends of Chula Vista Parks & Recreation is scheduled on Saturday, November 5 at Eastlake Middle School. This event is organized to bring together the school communities in a fun and engaging way with renaissance themed popular STEAM activity. The event involves teams from each school that will represent their school community by building a "trebuchet" and use it to compete for awards. We invite all dignitaries from the district, city of Chula Vista , San Diego, and more, see the attached flyer for videos and details. Please share this information with anyone that loves science, technology, enginerign, arts, and math.  Please encourage your STEM/STEAM advisors and coaches to register for a free workshops listed in the flyer. If you have any questions, please feel free to contact me or Mr. Michael Monaco <creative.ohtm@gmail.com> directly.
Flyer: 
5th Annual "Game of Throws" – Pumpkin Smash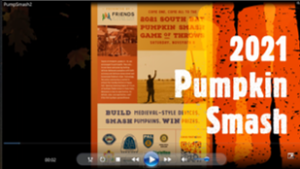 On November 6, ELM is hosting the 2021-2022 South Bay Pumpkin Smash: Game of Throws. All schools are invited, we  hope to see your school represented there on Saturday. Please reach out to Michael Monaco or Leo Ulloa if you need materials to build your trebuchet or catapult. Additionally, the COVID protocols must be followed at all times, all teams must register via the QR code on the flyer as teams must show proof of vaccination or a negative 72-hour Covid Test. A pop-up testing site will be on site to secure testing for your teams.
See Videos of teh event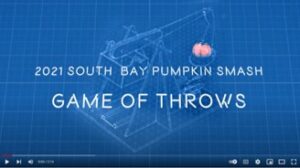 4th Annual "Game of Throws"
On Saturday morning, November 6th, 2020 teams of students from grades 3 through 12 will lay siege to Eastlake Middle School in Chula Vista, California for the fourth annual South Bay Pumpkin Smash "Game of Throws." Their aim…to win honor and prizes by hurtling leftover Halloween pumpkins with both accuracy and distance using school and homemade Medieval-style technology.
More details and team registration at bit.ly/sbps-gameofthrows
What is the "Game of Throws"?
This program encourages teams of students to research, design, build, test, and compete in a pumpkin throwing contest using a medieval mechanical device. Teams are comprised of three divisions; grades 3rd – 6th is Division III, 7th & 8th is Division II, and 9th – 12th is Division I. Each division builds an age appropriately sized device and compete in an accuracy contest, meaning closest to the target.  Each team gets four throws.  The first is a non-scoring throw to test the device.  The second and third are for accuracy, and the fourth is for distance and fun.
Thank you Past Partners, Sponsors, and Supporters!
This event is the fruition of the partnership of Sweetwater Union High School District (SUHSD), Friends of Chula Vista Park and Recreation, and Michael Monaco, publisher of Our Hometown  & Ella South Bay Magazines. This event would not have been possible without the generous support of Supervisor Greg Cox, Baldwin & Sons, The Chula Vista Fire Department, Naval Air Systems Command STEM Outreach Program (NAVAIR), The Eastlake Educational Foundation, The Chula Vista Rotary Club – Eastlake, and The Family of Stephen Ablahad.  Special thanks go to Principal Ricardo Cooke, Ed. D. and Eastlake Middle School for allowing us to use their school.