2019-20 NAVAIR/SWEETWATER UAS-DRONE CHALLENGE

In this year's challenge, we continue our partnership with NAVAIR. Palomar and Southwestern Community Colleges through the GeoTech Center.
The main objectives include to build a remote-controlled Unmanned Airborne System (UAS) -drone-  that can be modular, fast an agile, capable of completing a specific tasks and a race that involves obstacles (gates).
In order to have a more successful season, this year's challenge will be divided into three events. Event #1 will challenge teams of high school students to have their UAS-Drone hover successfully. Event #2 will involve the completion of a "task" that will be disclosed during event #1. And finally, event #3 will include a combination of "tasks" that will be explained at the conclusion of event #2.
Students have the choice of using First-Person-View (FPV) and will have the opportunity to test their STEAM skills with participation in an optional autonomous portion of the challenge (the UAS conducting a mission by itself).
Participating schools: Castle Park High School, Eastlake High School, Hilltop High School, Mar Vista High School, Montgomery High School, Olympian High School, Otay Ranch High School, Palomar High School, San Ysidro High School, Southwest High School, and Sweetwater High School.
Watch 2017-18 Event Video Highlights:
2019-20 partners and sponsors: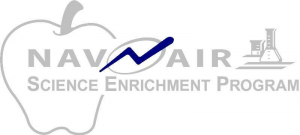 Background Information
2016-17 Inaugural Season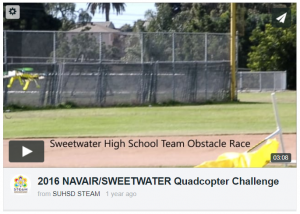 In 2016-17 school year, Naval Air Systems Command STEM Outreach Program (NAVAIR) partnered with Sweetwater Union High School District to develop a challenge first of its kind in California. It combined Unmanned Airborne Systems (UAS), also known as quadcopters, multi-rotors, or drones and 3D printing.
A fundamental element of this program is the mentorship component provided by NAVAIR engineers. Students were guided through this unique experience by engineers that take care of our NAVAL air fleet, including helicopters and fighter planes.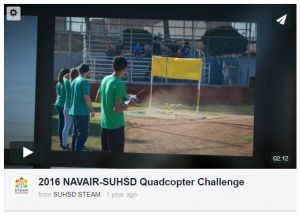 High  school students received a common kit of electric and electronic components, access to 3D ready to print files, and a set of guidelines and regulations to get ready for a challenge. Students were encouraged to improve the quadcopter's design but they were also required to explain the reasoning behind their design changes or modifications. Additionally, students needed to create sub-systems to work with the original quadcopter design in order to accomplish the challenge tasks.
Navigate 2016-17 Electronic Newsletter for more media (click on the following image)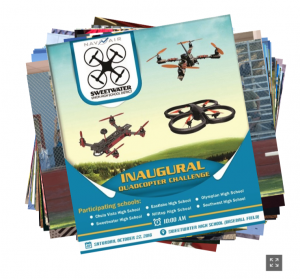 This SUHSD STEAM program received the "2017 Innovate Award" from Classroom of the future foundation (CFF). This award specifically focuses on the uniqueness of the "program actions" that increase student interest and drive achievement.