Qualcomm Thinkabit Lab Summer Camps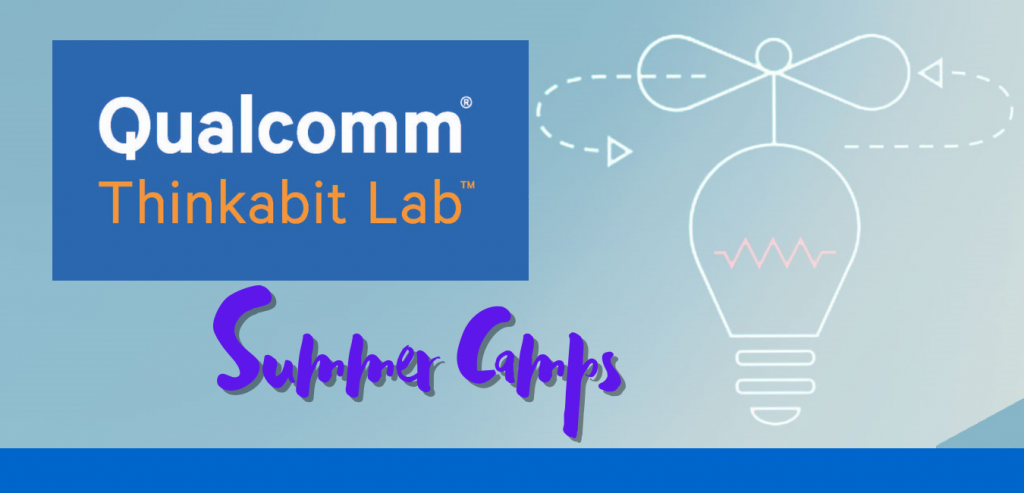 Sweetwater Union High School District (SUHSD) has partnered with Qualcomm to bring their signature Thinkabit Lab Program to our students. Students can dive into the world of engineering and invent Internet of Things themed projects to solve a problem of their choice. Camp activities are designed for students grades (incoming 2021-22) 8th through 11th. There are no costs associated with participation on these enrichment camps.
At the Qualcomm Thinkabit Lab Summer Camps, students will explore engineering and non-engineering careers available at tech companies and engage in a fun and unique hands-on STEAM projects. Together, the career exploration and STEAM activities will help students understand where they might fit in the future workforce and how they could contribute to solving real-world problems using technology.
The camps will include the following topics:
Qualcomm® World of Work
Internet of Things (IoT)
Then Power of Inventions [Build an invention]
Tech for Good Project
Learn more about how Qualcomm is inspiring the next generation of inventors HERE.
The Qualcomm Thinkabit Lab Summer Camps will take place the week of June 7-11, 2021 from 9:00 a.m. to 2:00 p.m. at the following locations:
-[In-Person] Chula Vista Middle School (seats available: 25)
-[In-Person] * San Ysidro High School (seats available: 25) ** All-Girl Camp **
-[In-Person] Otay Ranch High School (seats available: 25)
Any SUHSD student grades
Space is limited and seats will be assigned on a First-Come-First-Served basis.
Transportation will not be available -please plan accordingly by selecting a location closest to you.
Due to camp restrictions, we cannot offer 504/IEP accommodations.
Make sure student is not required to attend Summer School.
Registration is on a first come, first served basis.
Registration is NOT complete until Parent Permission Slips are turned into the district office of College and Career Readiness.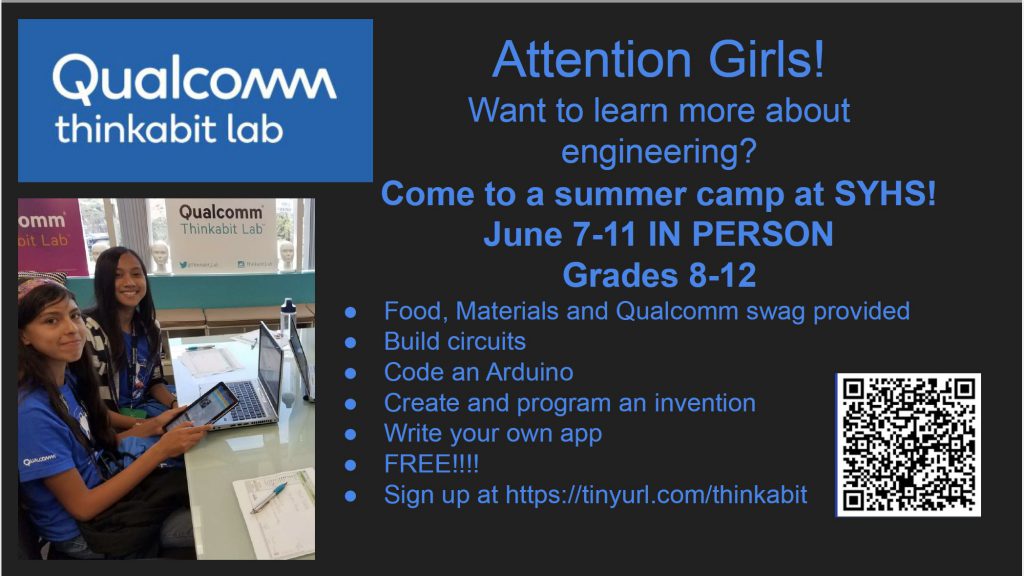 Please follow these steps to register:
1.- Complete this Online Registration Form. https://tinyurl.com/thinkabit
2.- Print and sign Parent Permission Slips. Forms are accessible HERE.
3.- Deliver Parent Permission Slips to the district office of College and Career Readiness to complete student registration.
College and Career Readiness Office is located at 670 L Street Suite C, Chula Vista, CA 91911. You can drop off permission slips Monday through Friday between the hours of 9:00AM and 4:00PM
Have you registered? Have you Submitted Permission Slips?
Check the Qualcomm Thinkabit Lab Summer Camps Enrollment List