The University of California and California State Universities have established a minimum set of courses required for admission as freshmen called "a-g".  These courses are called "a-g" because of the letter each subject area is assigned. SUHSD has worked on getting several of our CTE courses to receive the "a-g" designation.
These CTE courses have integrated academic content knowledge with practical or work based learning, service learning and/or project based learning to apply. The CTE courses that have received the designation are reviewed by the University of California using the same subject area course criteria as those used for all other "a-g" courses and follow the same path of submission and review as other new courses.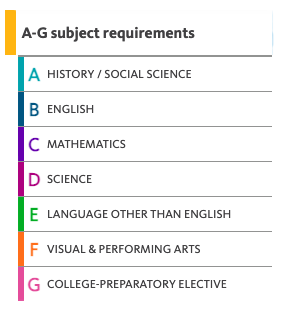 For more information about which specific CTE courses your school has available, please visit our CTE Pathways page, also available in the sidebar. Not only can you see what pathways are offered at your school, but you can tell which classes in your pathway have an "a-g" designation.